Frac Facts, June 5, 2017
A lot of people don't like to look at facts about fracks. They would rather just be scared by it--maybe because of the word. But we've said it before--and we'll say it again--it's a well documented technology used since the late 1940s on oil and gas wells to increase production. You would think that if it was that bad, most of the groundwater in Texas would be contaminated by hydrocarbons. But it is not.
The U.S. Geological Survey recently reaffirmed this in yet another study showing that hydraulic fracturing just isn't affecting groundwater quality. No increases in the trace hydrocarbons benzene or methane were found in on-going studies of groundwater used for drinking in Arkansas, Louisiana and Texas. They looked at over 100 water wells in these three states, some located less than 400 feet from producing hydraulically fractured oil and gas wells. Most of the methane found in these wells was microbially produced, not from natural gas deposits. Benzene concentrations were also low--well below federal standards for drinking water.
No significant contamination was found. And that's the fact on fracks.
The Future of Mature Oil Fields, April 10, 2017
The successful exploration of the United States for oil and gas production is a legendary story. Our nation remains dotted with the legacy of that success, tens of thousands of oil wells producing less than 10 barrels of oil per day that are still removing that vast treasure of hydrocarbon discovered in the 20th century. We know that most of that oil still remains in the ground. Recovery overall has certainly been well below 40% in most cases. What is the future of this treasure that remains in the ground?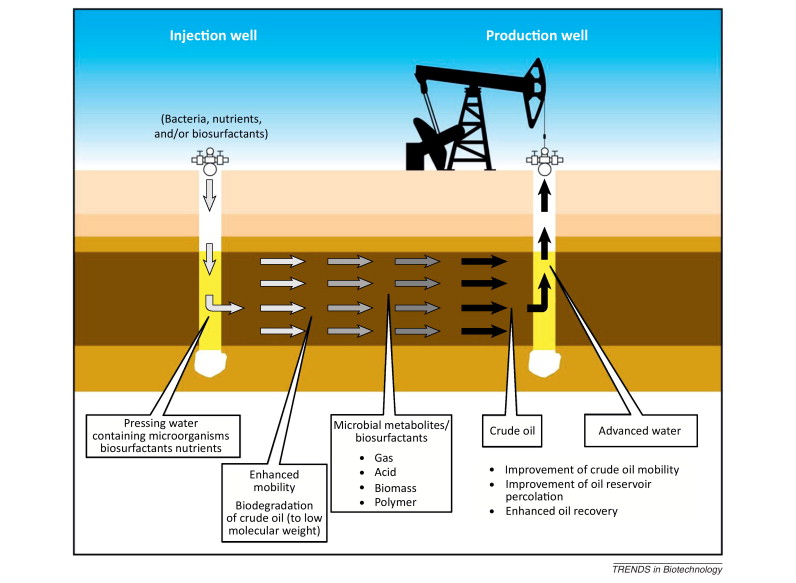 It's doubtful we'll see conventional tertiary technologies improved to the point where they can economically recover this remaining oil in these areas. Chemical flooding has intrinsic cost limitations especially relevant at today's prices. What can be considered in a concerted and targeted application of oil recovery microbes to improve formation permeability, increase wettability and reduce the viscosity of residual oil found in the formation. The result of such treatments is a formation ready to give up more of its tightly held reserves which have resisted release by water floods, fracking and other similar techniques.
Look at the expense of such microbial treatments and you will see cost effective recovery that can increases margins and asset value.
Reservoire Souring, March 2017
Many of us have seen and heard about it. A new field is brought producing sweet crude oil and gas that gets a good price and is easy to produce. Within a few years, the oil and gas is high in sulfur content and market price has dropped due to docking charges. You're spending money on safety training, HS monitors that you weren't spending before. The flowlines and tubing have holes that are costing an arm and a leg.
What's happened? More than likely it's a phenomenon known as reservoir souring and what it is a microbial infection that has spread due to contamination of the well bore and formation. Sulfate reducing bacteria and other microorganisms have been introduced through surface materials and they have colonized downhole. This contamination is caused by a lack of care and supervision during drilling, completion, workovers and water management. Perhaps totally preventable, but certainly mitigatable, reservoir souring is a manageable problem. Even after it has occurred, mitigation is possible. And not by just dumping biocides and hydrogen sulfide scavengers into the system. There are probiotic solutions that are environmentally sound, cost effective and successful. In the next few months, we'll look at how drilling and completion practices can be changed to reduce the risk of reservoir souring.
Using microbial culture products like the C500 line are part of the solution to the problems of reservoir souring. Stay tuned to our continuing series on this huge oil field headache.